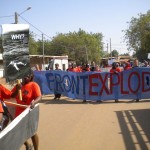 Last days the Afrique-Europe-Interact-caravan went from the malian capital to the mauretanian border. Find reports in the News-section of the projects homepage.
Many of the new posters and flyers against Frontex have been distributed in these days in Bamako, Nioro and Gogui, the long frontexplode-banner was present everytime and stickers with "Abolir Frontex" could be found (not only) at the plates near the borderpost to Mauretania.

At the manifestation in Nioro an impressive acoustic intervention took place: with original records of noises during a sea-operation of Frontex. And Frontex was a topic in all speeches, which have been held by different representatives of european and african organisations. Today, 31st of January, another demonstration went in front of the EU-Building in Bamako. Freedom of movement and the abolishment of Frontex have been the main messages in the manifestation.
Finally: it is decided in the meanwhile from the commitee on migration and diaspora inside the World Social Forum, that a demonstration against the EU-migration-policy will take place in Dakar at the 10th of February. A stop should be made in front of a malian police-building, where Frontex has established an (hidden) office. And Afrique-Europe-Interact will held a speech against the border-agency with a particular focus on its operation Hera in front of the westafrican coast.